Heather Jeffcoat on lifehacker.com | Do You Need Pelvic Floor Physical Therapy?
Details

Written by

Heather Jeffcoat, DPT

15002 Views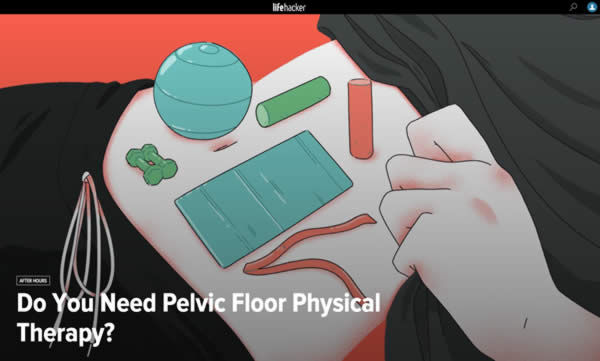 As the level of recognition for the expertise of Heather Jeffcoat, DPT and her team in the field of pelvic floor physical therapy has grown, so has the attention she has received from across various media platforms. Heather was recently sought out by Vanessa Marin for her wonderfully written Lifehacker article entitled "Do You Need Pelvic Floor Physical Therapy?".
The result is an in-depth and engaging look into the practice. It leaves the reader with the realization that it this a commonly overlooked and yet vitally important mode of therapy that more and more women are starting to take advantage of, whether it be for postpartum care, treatment for vaginismus or endometriosis, or many other causes or diagnoses.
A few excerpts from the article:
I like to tell physicians that if they have been searching for a cause of someone's pain between their ribs and their hips/pelvis and they have been medically cleared, they should be referred to a skilled PFPT.
Recently, researchers at the Center for Sexual Health Promotion at Indiana University found that 30% of women experienced pain during their last sexual encounter. Even though sexual pain is widespread, it often takes a very long time for a woman to get diagnosed with a sexual pain condition.
Dr. Jeffcoat says that if you're currently experiencing sexual pain, urinary urgency or frequency, bladder pain, urge incontinence, constipation, rectal pain or any pelvic pain, avoid kegels and check in with a PT first.
Pelvic floor issues are very common, and PTs want to help remove the stigma around getting help. Dr. Jeffcoat's standard initial visit is 90 minutes, a good chunk of which is spent talking and helping you feel more comfortable. You also have the option to postpone the physical examination until a later session.
Among the topics covered:
Should you being doing Kugels?
What symptoms might you find if your pelvic floor muscles are overactive?
Will Kegels help or hurt that?
How pelvic floor physical therapy works
What pelvic floor physical therapy can treat
Pelvic floor physical therapy and sexual pain
Keeping your pelvic floor in shape
If you feel embarrassed about what's involved in pelvic floor PT
The answers to these and many more topics can be found here.