The Staff of Femina Physical Therapy Blogs About Vaginismus, Pregnancy, Incontinence, and More
Details

Written by

Nancy Wong, OTD, OTR/L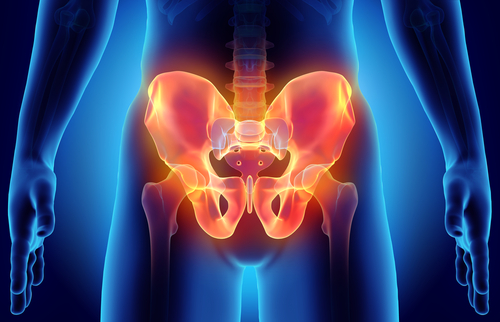 Happy National Condom Week!
Condoms are an effective barrier method of contraception (82% effective, according to the CDC) and reduce the spread of sexually transmitted diseases (STDs) including HIV, gonorrhea, and Chlamydia.
There are other benefits. Regular condom use with intercourse may also help the risk of recurrent Pelvic Inflammatory Disease (PID), Chronic Pelvic Pain (CPP), and Infertility. According to the 2004 study by Ness, Randall, Richter, et al., consistent condom users had 50% reduced risk for recurrence of PID, 30% reduced risk for chronic pelvic pain, and 60% reduced risk for infertility due to PID.
What is pelvic inflammatory disease (PID)?
Pelvic inflammatory disease is an infection-induced inflammation of the upper reproductive tract (the endometrium, fallopian tubes, ovaries, or pelvic peritoneum) of the female anatomy. In general, inflammation spreads from the vagina or cervix to the upper genital tract, endometritis is considered an intermediate stage of PID.
The way it presents can be different for different people. However, most clients with PID report pelvic tenderness and inflammation of the lower genital tract (vaginal canal, vaginal opening, and vulvar tissues).
Read more: Condoms May Help Reduce Risk for Recurrent Pelvic Inflammatory Disease and Chronic Pelvic Pain
Details

Written by

Nancy Wong, OTD, OTR/L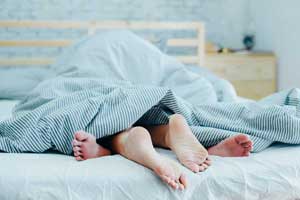 Science based recommendations and how therapy can help you
Does sex give you a backache?
Do you avoid sex due to your low back pain?
If you are thinking "YES," you are not alone. In a study by Bahouq et al. in 2013, 81% of clients with low back pain reported sexual problems and 66% of those clients reported never bringing the subject up with their doctor. As we all know, sex is an important activity for many. Today's post will shine a light on the latest science based recommendations sex positions for those with low back pain and how the therapists at Fusion Wellness and Femina can help.
Details

Written by

Nancy Wong, OTD, OTR/L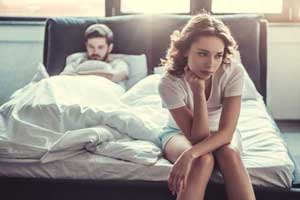 Cervical Health Awareness Month:
Sexual Problems and Cancer Treatment
Sexual problems are a side effect of cancer treatment that oncologists don't often talk about, but there are treatments to help, including the pelvic floor therapy that we do at Femina. Surgery, chemotherapy, radiation, hormonal therapy, stem cell transplantations, and other procedures can negatively affect quality of life, including sexual health and happiness. These side effects are not limited to cancers of the sexual organs either. Cancer treatment anywhere in the body (cervix, breast, throat, GI tract) can lead to changes in sexuality.
Up to 64% of women affected by cancer experience "altered sexuality"—their sex lives just feel different than they did before. There are physical side effects like fatigue, nausea, dry, painful, itchy, and burning vaginal tissues, and hormonal changes which make sex unappealing and painful. Altered self-image, depression, and anxiety can make it hard to connect with others and feel intimacy. These effects can last years after cancer treatment. If you are currently experiencing these effects, you are not alone and there are treatments that can help.
Details

Written by

Nancy Wong, OTD, OTR/L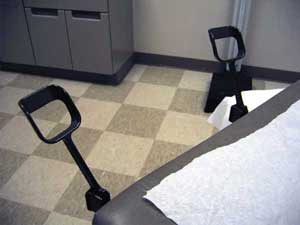 This information is for educational purposes only and is not intended to replace the advice of your doctor.
Is Pain with Penetration Preventing you from getting a Pap test?
January is a great time to make resolutions, fresh starts, and to start committing to self-care! It is also Cervical Health Awareness Month. Today we chat about the Pap test. If you are an adult with female anatomy living in the United States, chances are you have heard the term "Pap test" or "Pap smear." But why they are important and what can you do if you can't tolerate a gynecological exam with a speculum?
I can't stand having a speculum placed in my vagina. What can I do?
Pelvic floor issues such as vaginismus, vulvodynia, and vulvar vestibulitis can make it hard to have anything inserted into the vagina. Be it a penis, tampon, or a speculum, commonly reported symptoms include intense burning and stinging, sharp pain, a feeling that you "will tear," or like you are "hitting a wall." These are all conditions that are treatable at Femina Physical Therapy. Our therapy along with your healthcare team can help restore your ability to take care of your reproductive health as well as your sexual health and pleasure.
Details

Written by

Heather Jeffcoat, DPT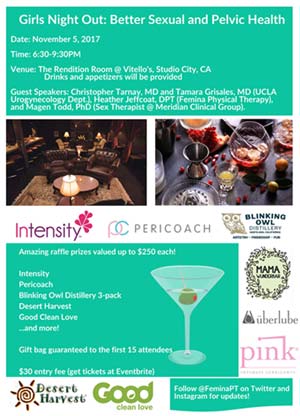 Date:
Sunday, November 5, 2017
Time:
6:30-9:30PM
Venue:
The Rendition Room @ Vitello's
4349 Tujunga Ave., Studio City, CA 91604
Drinks and appetizers will be provided!
Details

Written by

Heather Jeffcoat, DPT

Pelvic floor physical therapy is one of the best kept secrets in medicine.
I was on a recent plane flight and sat next to two women that were very chatty with one another. They quickly swept me up into their conversation. Inevitably, in situations like this, everyone asks "So what do you do for a living?". My answer used to be "I'm a physical therapist". The past couple of years, my standard response is "I'm a physical therapist, but let me tell you about what kind of physical therapist I am". Then I go into the diagnoses I treat related to bowel, bladder and sexual health and, in general, how I treat them. Across the board, their reaction is a mix of astonishment and genuine interest. The follow up dialogue is always eye-opening for them, and more often than not, they will report either knowing someone close to them as having one of these pelvic floor issues, or they have it themselves.