Incontinence
Details

Written by

Heather Jeffcoat, DPT

9065 Views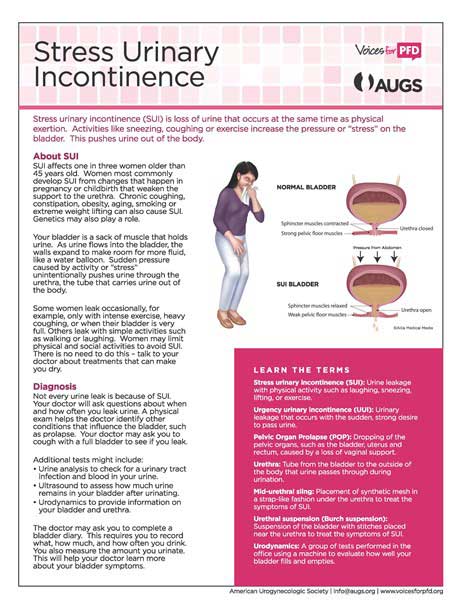 Incontinence is the inability to control bodily functions resulting in the loss of urine or feces.
Physical therapy treatments are important to restore the normal bladder and bowel functions through strengthening, use of behavioral modification strategies, correction of faulty patterns and habits and use of biofeedback and electrical stimulation as appropriate to enhance pelvic floor rehabilitation.
Types of incontinence include:
Stress Urinary Incontinence
An involuntary loss of urine with physical exertion (while coughing, sneezing, lifting, positional changes etc.) This occurs due to a weak urethral sphincter mechanism during a rise in intra-abdominal pressure.
Urge Urinary Incontinence
An involuntary loss of urine accompanied or preceded by a strong urge to urinate. The bladder is unstable or overactive.
Mixed Urinary Incontinence is the combination of both stress and urge symptoms.
Overflow Incontinence
A loss of urine associated with an over distension of the bladder. Some symptoms include reduced urine stream, difficulty initiating a stream, and tenderness above the pubic region.
Fecal Incontinence or Accidental Bowel Leakage
An involuntary loss of solid or liquid stool or gas from the anus. Causes of fecal incontinence can be related to sphincter weakness, neurological and/or musculoskeletal dysfunction or damage, radiation, and cognitive impairment.
Light Bladder Leakage
A mild form of incontinence, that results in little loss of urine. This can still be conservatively managed with pelvic floor physical therapy in most instances.
More articles detailing the types of incontinence and the therapies we can offer can be found here.
If you are suffering from incontinence and would like to schedule an appointment with one of our therpaists, use this form to get started.
** This information is for educational purposes only and is not intended to replace the advice of your doctor. **