Heather Jeffcoat in New York Magazine's "The Strategist"
Details

Written by

Heather Jeffcoat, DPT

7070 Views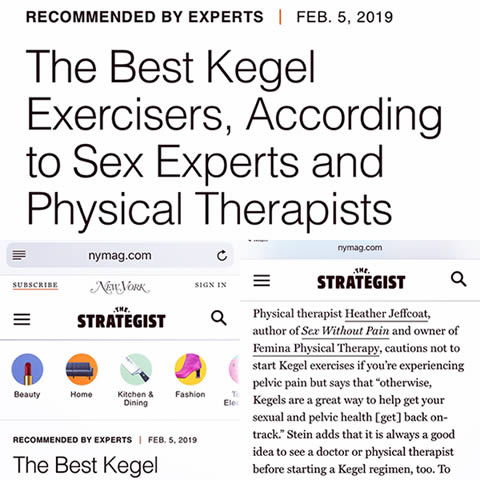 I was featured in New York Magazine's (@nymag) "The Strategist" column (@thestrategist) in an article on the best Kegel exercisers. But when they contacted me, I asked if they could include that Kegels may not be right for everyone, and I'm SO glad they did.
I LOVE Kegels, don't get me wrong, but they simply are not the magical solution for every pelvic floor problem.
Some big signs you should STOP doing your Kegels (at least for now) are:
if you're having pelvic pain
having painful sex (vaginismus, vulvodynia, vestibulodynia, dyspareunia)
peeing all the time (urinary frequency)
having discomfort or distress with your urinary urges
have interstitial cystitis / painful bladder syndrome or in men, nonbacterial prostatis
if you have tailbone pain (coccydynia)
if you have constipation
If you are clear of those conditions, then start doing those Kegels and there are LOTS of items on the market to help you reach your goals. Check out the article below for some of my favorites! If you feel like you are not succeeding, consult a pelvic floor therapist who can make sure you are doing them right.
Permalink: http://nymag.com/strategist/article/best-kegel-exercisers.html