Voyage LA | Meet Heather Jeffcoat, DPT, Founder of Femina Physical Therapy
Details

Written by

Heather Jeffcoat, DPT

1786 Views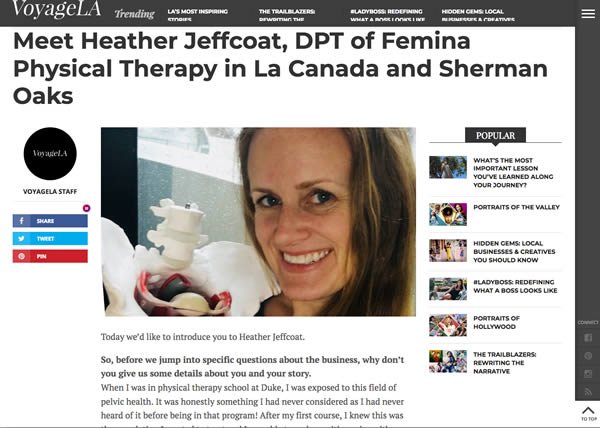 Voyage LA reached out to Heather for an interview on the history of her practice, how she got into the field of pelvic health, her education at Duke University, and the struggles she faced along the way.
Some snippets from the article:
About four or five years into practice, I got into a situation where I had to continually compromise the quality of patient care for the sake of increasing my patient volume. The cases I was seeing were very complex and to only give them 20 minutes or less of care was proving to be a huge disservice to this already vulnerable population.
All of our providers are licensed physical therapists that have their Doctorate degree and/or advanced training and certifications (including a Certified Lymphedema Therapist, certified Pilates instructor and Registered Yoga Therapist).
Our patient population is primarily women with sexual pain and dysfunction, incontinence, light bladder leakage, painful bladder syndrome (IC), prolapse, constipation and pain during pregnancy and postpartum. However, we also see men with pelvic floor disorders… as they have pelvic floors, too!
The full article can be found here.