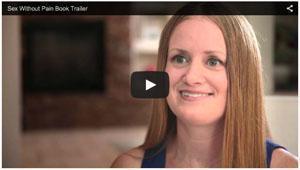 Videos by Heather Jeffcoat, DPT About Vaginismus, Pelvic Floor Issues, Painful Intercourse, and More
Heather and her team appearing in videos about a wide variety of women's health issues
Details

Written by

Heather Jeffcoat, DPT

Hits: 437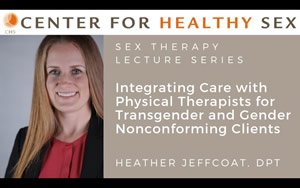 Sex Therapy Lecture Series: Heather Jeffcoat - Integrating Care with Physical Therapists
Heather Jeffcoat, DPT, Presents
Integrating Care with Physical Therapists for Transgender and Gender Nonconforming Clients
We will be discussing how physical therapists and sex therapists can integrate their care by reviewing how physical therapy can be introduced pre-operatively and post-operatively to support clients. We will review the unique physical considerations in working with this population and how a multidisciplinary team can better care for this unique and underserved population.
Visit http://www.centerforhealthysex.com for upcoming CE lectures held at CHS.
Details

Written by

Heather Jeffcoat, DPT

Hits: 579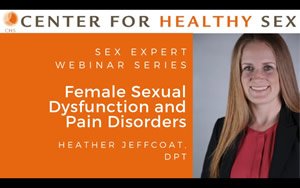 Sex Expert Webinar Series: Female Sexual Dysfunction and Pain Disorders with Heather Jeffcoat
Heather Jeffcoat, DPT, Presents
Sex Expert Guest Webinar Topic: Female Sexual Dysfunction and Pain Disorders
Heather Jeffcoat, is the author of Sex Without Pain: A Self-Treatment Guide To The Sex Life You Deserve and a recognized expert in the field of Pelvic Health Physical Therapy. She has most notably been a featured guest on Sex With Emily on Sirius XM and podcast, ABC Radio, Loveline with Mike and Dr. Drew, Livestrong, Mom.me, and numerous other magazines, websites and television appearances.
Details

Written by

Heather Jeffcoat, DPT

Hits: 2455
Heather speaks about vaginismus, overactive pelvic floor, painful intercourse, vulvodynia, vulvar vestibulitis, vestibulodynia, dyspareunia, and interstitial cystitis, all covered in her Book "Sex Without Pain":
"Sex doesn't have to hurt! Whether your pain during intercourse (or your partner's) began with a first sexual experience or after pregnancy or injury, this step-by-step guide can put you on the path to recovery, and to enjoying the sex life you deserve."