Psychology Today | Effective Self-Help for Women's Pain During Intercourse
Details

Written by

Heather Jeffcoat, DPT

2673 Views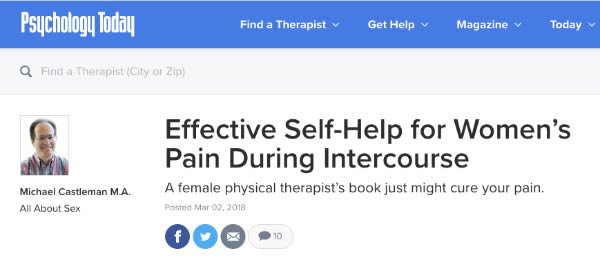 Michael Castleman M.A. has written an informative article for Psychology Today about women's options for self help when it comes to painful intercourse.
According to the landmark "Sex In America" survey (1994), sexual pain afflicts around 20 percent of American women—15 percent before menopause, 33 percent after. That's such a shame. Except for consensual BDSM, sex should never hurt, not even the first time.
Many Possible Causes
Pain on intercourse has a myriad of possible causes, among them vaginismus, rushed lovemaking, insufficient lubrication, relationship distress, birth control pills, vulvar irritation, vulvar vestibulitis, oxalate irritation, sexually transmitted infections, a history of sexual trauma, and the man inserting too quickly or deeply.
Genital pain often requires professional care. But before consulting your gynecologist, I suggest obtaining a copy of Sex Without Pain by physical therapist Heather Jeffcoat, DPT. Jeffcoat is one of a small number of health professionals specializing in evaluating and treating female genital pain. Her supportive 75-page book debunks common myths (like, "Just relax"), and provides a simple step-by-step program that has cured many women's pain in just a few months.
** This information is for educational purposes only and is not intended to replace the advice of your doctor. **