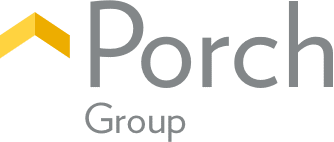 Our story
Porch sprang to life in 2013 to tackle the age-old problem of connecting homeowners with high-quality home improvement professionals. We started out as a home services marketplace, delivering project requests to pros across the country who make up part of the $500 billion home improvement market. (Yep, that number is correct!)
Since then, Porch has evolved into a vertical software company focused on making the home simple by providing software and services to companies. Porch's mission is to partner with home service companies and together, delight homeowners from moving to improving and everything in between. From moving companies, home inspectors, large utility companies, real estate professionals, and more, these 11,000+ small and large businesses use Porch to improve their operations, grow their business, and improve their customer experiences. Through these companies, Porch gets introduced to their customers to help make the move and home maintenance simpler.
Today, Porch is involved with approximately 2 out of every 3 U.S. homebuyers each month.
Details

Written by

Heather Jeffcoat, DPT

1103 Views
As you probably know by now if you're a regular reader of our site, we consider good pelvic health to be a major factor in overall health, and that includes the ability to get good sleep.
Porch.com
writer
David De la Mora
found me when researching one piece of the overall sleep puzzle, namely how to get a better sleep when dealing with the symptoms of endometriosis. Here are some excerpts from the article with my comments. A link to the original article which covers a number of non-endo related topics is included below.
Heather Jeffcoat, DPT
How to Minimize Endometriosis Symptoms and Get a Better Sleep
The article begins:
There's no doubt that sleeping is good for you. Who doesn't enjoy waking up after a good night of sleep? Your body goes through a number of changes as you sleep, allowing you to get the rest you need for general health. Sleeping helps the body and brain to calm down and participate in healing processes, improving physical and mental performance both over the long term and immediately thereafter.
As we mention in this article entitled "Endometriosis and Sleep Blog: Improving Melatonin Levels", with chronic pain conditions, such as endometriosis, sleep quality can be impaired. Sleep is essential for cognitive function, immune function, and overall health. The relationship between pain and sleep is a vicious cycle as pain can lead to poor sleep, but at the same time, poor sleep can increase sensitivity to pain and worsen depressive thoughts and thus experience a poorer quality of life. In fact, sleep disorders and changes in your melatonin level can have an effect on the reproductive system, not making it any easier to conceive.
With this in mind, the article continues: