Heather Jeffcoat on the "Sex With Emily" Show with Dr. Emily Morse - January 8, 2019
Details

Written by

Heather Jeffcoat, DPT

7304 Views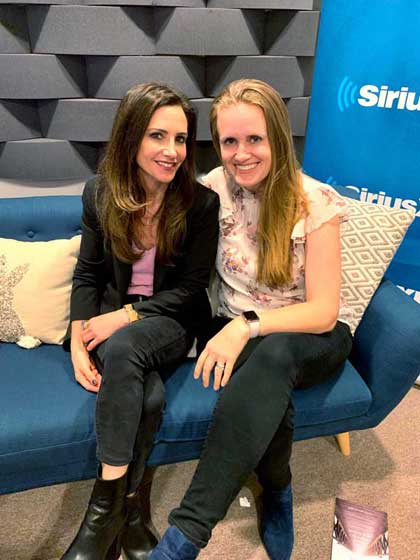 Heather Jeffcoat, DPT was once again a special guest on the popular and thought provoking podcast hosted by Dr. Emily Morse. Topics include Heather's book "Sex Without Pain", painful sex issues due to vaginismus, injury, pregnancy, and other issues, returning to a healthy postpartum sex life after childbirth, and much more.
From the show's notes on SexWithEmily.com:
On today's show Emily welcomes back physical therapist Heather Jeffcoat to talk about getting past the pain holding you back from better sex.

They discuss why painful sex issues are misunderstood – even though it's very common, making sure you're doing your Kegels correctly, why a second opinion is always best if you were prescribed wine by a psychologist, and how to get into pelvic shape after having children.
Have a listen here:
About Dr. Emily Morse:
In 2005, Dr. Emily Morse had an idea. What if, she thought, you could talk about sex the same way you could talk about any other topic? What if you could make sex — society's ultimate taboo — approachable, accessible and most-of-all, acceptable?

Leveraging her love of telling others' stories — Morse's media career started in 1999, when she produced a documentary on the mayoral race in San Francisco called "See How They Run". The doc itself — which would go on to win awards and even air on PBS — was perhaps most pivotal for its role in sparking Morse's interest in having deep, meaningful conversations with individuals from all walks of life.

Since then, Morse went on to become a Doctor of Human Sexuality, co-host the famed Loveline Radio Show with Dr. Drew Pinsky, and star in the Bravo TV series, Miss Advised. She's been named as one of Esquire's & Stylecaster's top sex & love podcasters, and voted the #1 dating & sex expert to follow on Twitter. She is an author, masthead contributor to Cosmopolitan Magazine, and creator of her own mobile apps.

As sex becomes an increasingly complex topic to navigate, Morse is a friendly, non-judgemental and open-minded voice that cuts through the clutter. Focused on inviting people into the conversation, versus calling them out, she aims to be a source for down-to-earth, relatable and unbiased information on sex, relationships, and all that they entail.
** This information is for educational purposes only and is not intended to replace the advice of your doctor. **