Verywell Family | How Long After Pregnancy Can You Have Sex?
Details

Written by

Heather Jeffcoat, DPT

1234 Views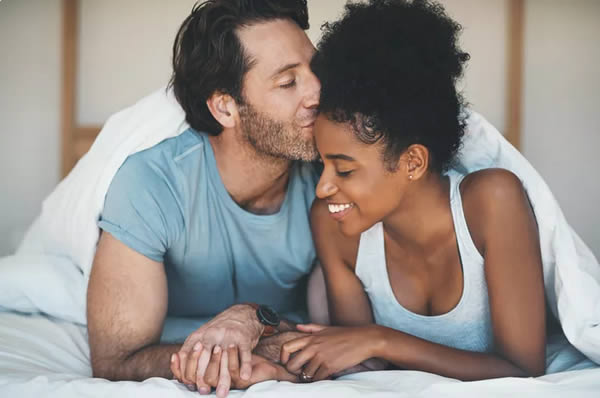 Wondering How Long After Pregnancy Can You Have Sex?
Your world changes drastically after having a baby. Feeling in the mood for sex may take some time for both you and your partner. And whether you're dealing with a lack of sleep, hormonal ups and downs, painful recovery, postpartum depression, trouble connecting with your partner, or all of the above, trying to rush an intimate relationship can cause more trouble than its worth.
That's why it's important to ease back into this part of your life and educate yourself on what to expect. Here, we go over the recommended wait time, reasons why you might be experiencing painful sex, why it's normal to not want to have sex right away, and tips for when you are ready.
Painful Sex After Pregnancy
Getting the all-clear from your doctor to resume sex doesn't necessarily mean everything will go as planned. If this is your first experience with post-pregnancy intimacy, don't be surprised if you feel both physically and emotionally different than you did before childbirth. This is completely normal.
According to a study published in BJOG, most women who resume sex by 12 months postpartum experience pain during their first vaginal sex encounter after childbirth. More specifically, dyspareunia or painful intercourse after childbirth was reported in 44% of women at three months postpartum, 43% at six months, and 28% at 12 months postpartum.
Women's bodies are in a low-estrogen state, which means they will experience vaginal dryness and be producing less of their own natural lubricant," says Heather Jeffcoat, DPT, owner of Femina Physical Therapy.
That's why she says lubrication is a must for postpartum women resuming intercourse.
Plus, you may have vaginal scar tissue from the delivery, which can also create pain with penetration, Jeffcoat says.
Jeffcoat also points out that you may have hip, pelvic, or low back pain resulting from childbirth or taking care of a newborn. And pain can be an additional deterrent to intimacy.
Painful sex postpartum is a problem that often gets dismissed. If you are experiencing discomfort beyond what is expected, consider making an appointment with a pelvic floor physical therapist. They can address issues with scar tissue and muscle tension, make lubricant recommendations, and provide ideas for positions that may feel more comfortable.
For more on how long after pregnancy can you have sex, the full article can be found here.
** This information is for educational purposes only and is not intended to replace the advice of your doctor. **