Who We Are
Verywell Family is a modern resource that offers a realistic and friendly approach to pregnancy and parenting. Our library of more than 5,000 pieces of content, created and refined over the past 20+ years, has been written by more than 100 healthcare professionals and industry experts including experienced pediatricians and parenting coaches, and is then vetted by board-certified physicians. We give you the facts and guidance to feel confident about the choices you make for you and your family.
Details

Written by

Heather Jeffcoat, DPT

Hits: 11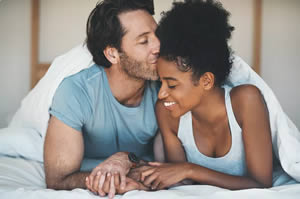 How Long After Pregnancy Can You Have Sex?
Your world changes drastically after having a baby. Feeling in the mood for sex may take some time for both you and your partner. And whether you're dealing with a lack of sleep, hormonal ups and downs, painful recovery, postpartum depression, trouble connecting with your partner, or all of the above, trying to rush an intimate relationship can cause more trouble than its worth.
That's why it's important to ease back into this part of your life and educate yourself on what to expect. Here, we go over the recommended wait time, reasons why you might be experiencing painful sex, why it's normal to not want to have sex right away, and tips for when you are ready.