Girls' Night Out | Better Sexual and Pelvic Health - October, 2017
Details

Written by

Heather Jeffcoat, DPT

3359 Views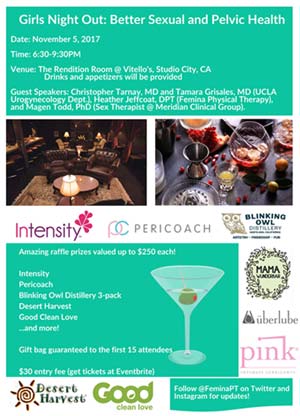 Date:
Sunday, November 5, 2017
Time:
6:30-9:30PM
Venue:
The Rendition Room @ Vitello's
4349 Tujunga Ave., Studio City, CA 91604
Drinks and appetizers will be provided!
Guest Speakers:
Christopher Tarnay, MD and Tamara Grisales, MD (UCLA Urogynecology Dept.)
Heather Jeffcoat, DPT (Femina Physical Therapy)
Magen Todd, PhD (Sex Therapist @ Meridian Clinical Group)
Amazing raffle prizes valued up to $250 each, including:
Gift bag guaranteed to the first 15 attendees!

Press Release Info:
Femina Physical Therapy Redefines Girls Night Out
Heather Jeffcoat, Physical Therapist and author, to headline landmark discussion forum on pelvic and sexual health at exclusive L.A. women's event
(STUDIO CITY, CA) October 27, 2017 -- Women's health physical therapist Heather Jeffcoat wants to talk to women about sex. But instead of putting them in a sterile office with a paper gown, she is inviting them to a speakeasy and pouring drinks.
Girls Night Out: Better Sexual And Pelvic Health is scheduled for Sunday, November 5, 2017 at 6:30 p.m. at the members-only Rendition Room at Vitello's in Studio City. The educational and social event will feature Jeffcoat, the founder of Femina Physical Therapy, and other Los Angeles-based experts including Urogynecology specialists Christopher Tarnay, MD, and Tamara Grisales, MD (UCLA) and sex therapist Magen Todd, PhD (Meridian Clinical Group).
Following their talks on a variety of women's sexual health topics, speakers will join attendees for an informal question and answer session over drinks and appetizers. Jeffcoat hopes the intimate venue, food and drinks, gift bags, and prizes will set the mood for the conversation she hopes to facilitate.
"Now, more than ever, it's important to create safe spaces for women to talk openly about sexual health," she says. "This event represents the best of both worlds; a fun night out with friends and reliable, accurate information to help women take charge of their own pelvic and sexual health.
Femina Physical Therapy is a specialized women's health physical therapy practice in partnership with Fusion Wellness and Physical Therapy, dedicated to treating female patients throughout their lifespan. Offices are located in Sherman Oaks, CA and Montrose/Glendale-Flintridge, CA. Founder Heather Jeffcoat, DPT, is also the author of Sex Without Pain: A Self-Treatment Guide To The Sex Life You Deserve.
For More Information, Contact: