Why You Should STOP Doing Kegels NOW
Details

Written by

Heather Jeffcoat, DPT

14322 Views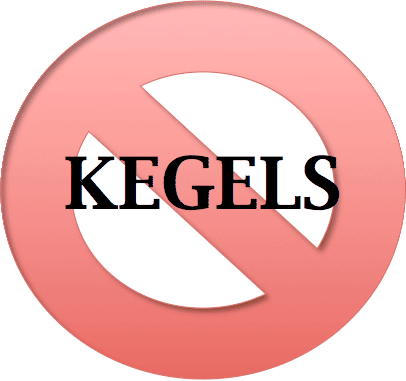 Should You Stop Doing Kegels?
Read on for the answer.
In my last post, "Why You Should Be Doing Kegels NOW", I went over the specific diagnoses that tend to benefit most from doing pelvic floor muscle exercises. However, not all issues related to the pelvic floor are appropriate to prescribe pelvic floor muscle exercises for. In fact, doing Kegels can actually be harmful and counterproductive to your symptoms if you have certain diagnoses, and it may be best if you stop doing kegels depending on your diagnosis.
In physical therapy, there are proper and improper times to strengthen a muscle. When speaking about the pelvic floor, you should only strengthen a muscle that is weak and overly lengthened. If a muscle in a high state of rest (guarded, hypertonic, or with limited flexibility), the LAST thing you should do is continually contract it. This will only further shorten/tighten an already short/tight muscle and likely make your problem worse, or at the very least, prevent if from getting better.
Here are the primary diagnoses that I generally recommend you stop doing kegels exercises (and even core strengthening) with, at least in the early stages of treatment:
1) Vaginismus
2) Vulvodynia / Vulvar Vestibulitis / Vestibulodynia / Provoked Vestibulodynia / Clitoris pain
3) Overactive Pelvic Floor
4) Genito-Pelvic Pain/Penetration Disorder (GPPD)
5) Introidal Dyspareunia
6) Interstitial Cystitis / Painful Bladder Syndrome
7) Urinary Urgency & Frequency
The above diagnoses are frequently in need of muscle relaxation and stretching to get the muscle to a normal state of rest. To continually contract the muscles in the area will only feed into the pain cycle (or make the muscle more short/tight). As physical therapists, our job is to break the cycle of pain. The best way to approach these diagnoses is through advanced muscle techniques, which should include a complimentary home program.
Eventually, strengthening will be needed and balancing out any asymmetries that were identified on your initial visit. If painful intercourse is a part of your diagnosis, the program outlined in Sex Without Pain: A Self-Treatment Guide to the Sex Life You Deserve offers a comprehensive program to overcoming this type of pain.
What will happen at my first physical therapy visit?
After a thorough history, we will begin the physical exam which will include a postural assessment and a check of associated muscles flexibility and strength. After possible contributing factors have been addressed on a larger scale, the smaller pelvic floor muscles will be evaluated. There is no speculum involved and instead will be an assessment of pelvic floor muscle function, including contraction, relaxation and palpation for tender areas. Once these areas are identified, treatment will begin, and most patients leave their first visit with a home exercise program that will directly influence their symptoms to reduce their pain.
** This information is for educational purposes only and is not intended to replace the advice of your doctor. **