Vulvovaginal Moisturizers: Who Needs One & Choosing the Right One
Details

Written by

Debbie Dy, PT, DPT

875 Views
Choosing the Right Vulvovaginal Moisturizer
Assuming you need one, make sure it's got the right ingredient list
There are many reasons why those born with female anatomy may require the use of a vulvovaginal moisturizer throughout their lifetime. As you age, the vaginal and vulvar tissues tend to become drier and less elastic. This change is typically seen around the time one goes through menopause due to the drop in estrogen that occurs. The vulvovaginal tissues are very sensitive to hormonal changes and estrogen is the hormone that controls vaginal lubrication, as well as tissue elasticity and thickness.
However, menopause is not the only time that one can notice a change in vulvovaginal dryness. Estrogen levels also often fall after childbirth, and if one chooses to breastfeed, can continue until cessation of nursing. Taking anti-estrogen drugs for the treatment of endometriosis symptoms or uterine fibroids can also lead to dryness issues. Vaginal dryness can also be a side effect of oral contraceptive pills. Dryness is also a common symptom of certain cancer treatments that may suppress the ovary's secretion of estrogen.
There are also non-hormonal causes of vulvovaginal dryness such as certain conditions like Sjogren's Syndrome which causes dryness to all mucus membranes. Vulvovaginal dryness can lead to a variety of symptoms such as pain with intercourse, vulvar itching or burning or pain with urination.
For whatever reason that you may be having vulvovaginal dryness, a vulvovaginal moisturizer product formulated to hydrate these tissues is a safe and easily accessible way to provide increased comfort. Not all vulvovaginal moisturizers are created equal however - the moisturizer that you use on your face and body may not be the right choice for the vulvovaginal area. The pH of the vagina is naturally acidic, and many products are at a high - or more basic pH level. Introducing products that have a higher pH than the vaginal environment can lead to increased vaginal dryness, increased risk of infection such as BV, or yeast overgrowth.
Below is a list of some of our favorite vulvovaginal moisturizer products!
P.s. We have discount codes here if you'd like to save a few $$ (just scroll down to 'personal lubricants')!
Revaree is a suppository formulated with hyaluronic acid which is known to provide moisture, as well as plump up the tissue to allow for a more comfortable barrier for friction.
---
Good Clean Love - Bionourish Ultra Moisturizing Vaginal Gel:
This is another great option for a hyaluronic acid vulvovaginal moisturizer, however instead of a suppository, it comes with an applicator similar to a tampon applicator that allows for you to insert some of the product internally, mess free!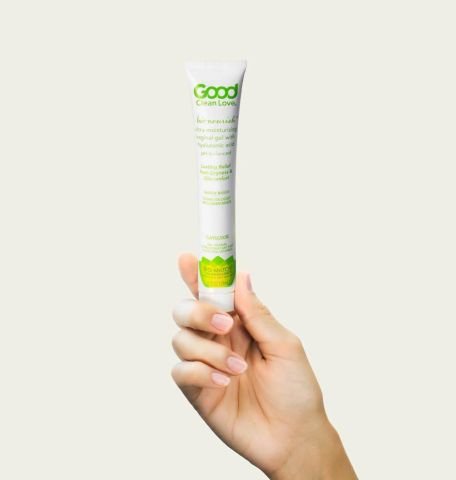 ---
Desert Harvest Aloe Glide - If your symptoms also come with itchiness, inflammation, or burning pain, this product may be a great choice as it is an aloe-vera based vulvovaginal moisturizer.
V Magic Vulva Balm - The VMagic vulva balm is a great option for vulvar dryness and irritation. Due to it's balmy texture, it can be applied mess free and is long lasting for application on the vulva.
Not sure which of these products are right for your symptoms? Give us a call and one of our pelvic health physical therapists can evaluate you and provide you with customized product recommendations for vulvovaginal moisturizer and much more.
References:
Santoro N, Epperson CN, Mathews SB. Menopausal Symptoms and Their Management. Endocrinol Metab Clin North Am. 2015 Sep;44(3):497-515. doi: 10.1016/j.ecl.2015.05.001. PMID: 26316239; PMCID: PMC4890704.
Casey PM, MacLaughlin KL, Faubion SS. Impact of Contraception on Female Sexual Function. J Womens Health (Larchmt). 2017 Mar;26(3):207-213. doi: 10.1089/jwh.2015.5703. Epub 2016 Sep 13. PMID: 27622561.
** This information is for educational purposes only and is not intended to replace the advice of your doctor. **