Vaginal Childbirth Positioning Series Part 3: Delivery of the Placenta
Details

Written by

Staff

2792 Views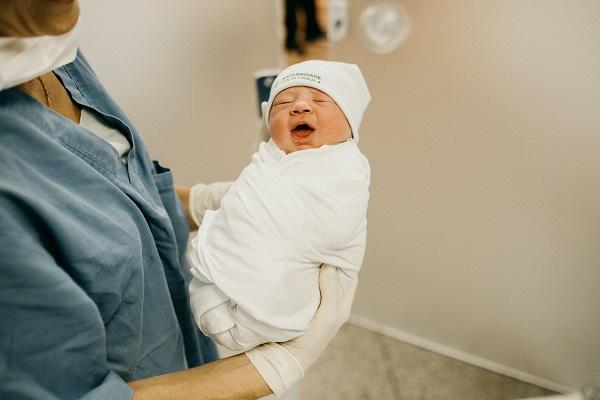 Third Stage of Childbirth: Delivery of the Placenta
You made it!
Now, at this point you have delivered your baby and your body's hormones have shifted tremendously! You may feel overwhelming emotions of joy and exhaustion at the same time. Oxytocin, the bonding hormone, rises sharply to compensate for the drastic drop in estrogen and progesterone. You may find yourself shivering, and this is normal immediately post-giving birth and can last up to one hour.
Delivery of the Placenta
The third stage of childbirth involves the delivery of the placenta. Oxytocin also helps with the delivery of the placenta, as it helps separate from the uterus. Depending on your birth plan, your team may help with delivery of the placenta with medications, gentle fundal massage, and gentle tugging of the cord. This will likely be in a position with you lying on your back. Or, you may continue to spontaneously deliver in any position that you feel comfortable, whether that is an upright position, hands and knees position, or even lying on your back. The placenta may come out on its own, or you may feel the urge to push again. The key is to choose a comfortable, yet appropriate position for you.
Next Steps
The next step may be repairing any lacerations you may have sustained; if applicable, ask your doctor (or have your doula or partner ask) what grade of tearing occurred, where the tearing occurred, and how many stitches were placed. It is normal to experience some bleeding and applying ice compressions (pads) is helpful to help recovery and inflammation in this early postpartum period. For delayed healing, we also use infrared light in our office to support the healing process.
Enjoy this special time, with rest, nourishing foods, and patience.
Keep in mind these main points when prepping for delivery: practice moving into various upright positions, get to know and understand your pelvic floor muscles, and train for the upcoming marathon. After giving childbirth, give yourself the space to process the overwhelming emotions you may experience, as you prepare for the delivery of the placenta.
Pelvic floor physical therapists can guide you through the process, help teach you how to lengthen the pelvic floor muscles, perform perineal massage techniques, find some of your favorite positions, and overall improve endurance and stamina for your upcoming joyous childbirth journey.
Further Resources:
Please check out our other blogs on other pregnancy topics, as well as our postpartum health blogs for the fourth trimester :).
References:

1. Abdelhaim AM, Eldesouky E, Elmagd IA, et al. Antenatal perineal massage benefits in reducing perineal trauma and postpartum morbidities: a systematic review and meta-analysis of randomized controlled trials. Intl Urogynecol J 31, 1735-1745 (2020). https://doi.org/10.1007/s00192-020-04302-8
2. Ananda, Kara. Better Birthing Through Alignment: Optimal Labor Positioning. https://wellnessblessing.com/blog/2014/3/29/better-birthing-through-alignment-optimal-labor-positioning
3. Dekker, Rebecca. The Evidence on: Birthing Positions. Evidence Based Birth. February 2, 2018. https://evidencebasedbirth.com/evidence-birthing-positions/
4. Hofmeyr GJ, Singata-Madliki M. The second stage of labor. Best Practice & Research Clinical Obstetrics and Gynaecology: 2020, 67; 53-64. https://doi.org/10.1016/j.bpobgyn.2020.03.012
5. Tully, Gail. Three Levels of the Pelvis. Spinning babies. March 7, 2016. https://www.spinningbabies.com/optimal-maternal-postions-at-the-levels-of-the-pelvis/
** This information is for educational purposes only and is not intended to replace the advice of your doctor. **