Urinary Incontinence and Depression | What's the Connection?
Details

Written by

Staff

5916 Views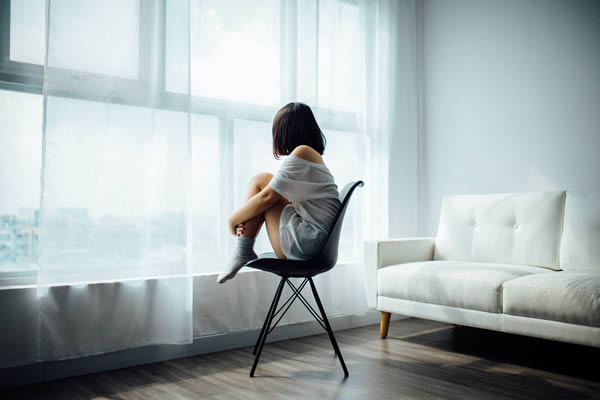 A recent study connects anxiety, urinary incontinence and depression in women
What is urinary incontinence?
Urinary incontinence refers to the loss of urine, out of your control. There is actually more than one kind of urinary incontinence: the two most common types of urinary incontinence that affect women are stress incontinence and urge incontinence (also called overactive bladder, or OAB).
Stress Incontinence: urine leaking with physical activity - sneezing, coughing, laughing, lifting, pushing/pulling, jumping.
Urge Incontinence: urine leakage that is coupled with urgency to go- leaking while you're in line for the toilet, leaking/urgency when you're parking your car in the driveway, putting the key in the door, fumbling with your pants, etc.
Mixed UI: a combination of stress and urge symptoms
Urinary incontinence and depression… What's the connection?
Previous studies by showed an association between depression/anxiety to all three main types of urinary incontinence: stress incontinence, urge incontinence, and mixed incontinence. However, the strongest connection was between urge incontinence and mixed urinary incontinence (Felde, 2012; Melville, 2009; Concepcion, 2018).
A 2009 study conducted by Melville, Fan, et al. tracked 5,820 women with the mean age of 59.3 for 6 years to study the possible relationship between between depression and urinary incontinence (UI). The researchers found that major depression increased the odds of women to develop urinary incontinence. 21% of respondents with depression developed urinary incontinence whereas 11% of those without major depression developed urinary incontinence. Conversely, Melville et al. did not find that having urinary incontinence at baseline led to a greater incidence of developing depression.
Researchers believe there could be an underlying biologic reason why depression/anxiety may lead to greater risk of developing urinary incontinence. There are shared neurologic and biochemical pathways in both urinary incontinence and depression/anxiety. Depression and anxiety increase the activity the hypothalamic-pituitary axis, which is an interactive relationship between the hypothalamus, the pituitary gland, and the adrenal glands. The hypothalamic-pituitary axis plays in important role in the body's response to stress and is also involved in both bladder control and in the way depression/anxiety affects our brain chemistry.
What you can do if you have urinary incontinence and depression
Bring up all health concerns with your doctor
It is important to bring up both mental health and physical health concerns with your doctor. Treatment for depression and anxiety can differ for many people and may or may not include the use of medicines, talk therapy, and other tools. For all patients, we recommend having a robust healthcare team that includes support from a doctor, pelvic floor therapist, mental health therapist, and any other specialists that may help you heal.
Pelvic floor therapy may help with urinary incontinence and depression.
The therapists at Femina can help determine what musculoskeletal dysfunctions are contributing to your urinary incontinence: pelvic floor muscle weakness, poor muscle control of the pelvic floor, or other orthopedic issues. Therapy may include:
Bladder and bowel habits including lifestyle modifications like optimal fluid intake and constipation management
Therapeutic exercise to strengthen the pelvic floor
Biofeedback training with intravaginal sensors
Electrical stimulation using the InTone device
Manual therapy to treat connective tissue dysfunction and myofascial trigger points
Visceral mobilization (gentle massage techniques that loosen internal adhesions and restore movement to the organs including the intestine, bladder, uterus, and ovaries) to reduce intra-abdominal pressure, improve motility, and organ function
Internal pelvic manual therapy to treat sensitive tissues, muscle spasms, trigger points, and muscle guarding that can contribute to urgency, frequency, and leakage
Training in self treatment techniques including correct form for pelvic floor strengthening and abdominal lymphatic massage
Neuromuscular re-education and autogenic relaxation to reduce chronic muscle over-activity and improve parasympathetic nervous system function, including reducing bladder spasms
Pelvic floor therapists are trained to fully assess what is going on in your body in order to fully understand what is contributing to any urinary incontinence and depression. Check out our post on what to expect on your first visit for more info.
Resources
Melville, J. L., Fan, M.-Y., Rau, H., Nygaard, I. E., & Katon, W. J. (2009). Major depression and urinary incontinence in women: temporal associations in an epidemiologic sample. American Journal of Obstetrics and Gynecology, 201(5), 490.e1–490.e7. doi:10.1016/j.ajog.2009.05.047
Nygaard I, Turvey C, Burns TL, Crischilles E, Wallace R. Urinary incontinence and depression in middle-aged United States women. Obstet Gynecol. 2003;101:149–56.
Felde, G., Engeland, A., & Hunskaar, S. (2020). Urinary incontinence associated with anxiety and depression: the impact of psychotropic drugs in a cross-sectional study from the Norwegian HUNT study. BMC Psychiatry, 20(1). doi:10.1186/s12888-020-02922-4
Felde G, Bjelland I, Hunskaar S. Anxiety and depression associated with incontinence in middle-aged women: a large Norwegian cross-sectional study. Int Urogynecol J. 2012;23:299–306. 4.
Concepcion K, Cheng Y, Mcgeechan K, et al. Prevalence and associated factors of urinary leakage among women participating in the 45 and up study. Neurourol Urodyn. 2018;37:2782–91.
** This information is for educational purposes only and is not intended to replace the advice of your doctor. **