Ways to Keep Calm | Using Mindfulness Meditation in times of Global Stress
Details

Written by

Staff

3670 Views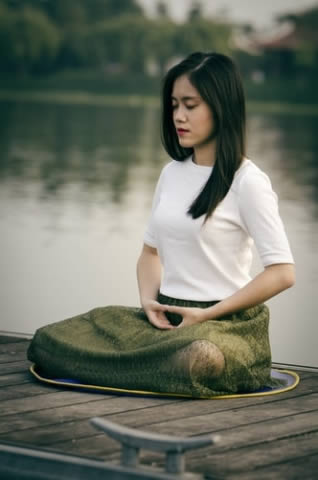 As many places in the United States and around the globe are beginning to navigate new realities and daily routines in light of COVID-19, there is undoubtedly a lot of stress, anxiety, and helplessness affecting not only individuals, but our entire global community.
I myself am writing to you on day 7 of a 14 day quarantine and the Los Angeles community is preparing to abide by a "stay at home" ordinance with no definite end date at the time of this blog.
As various studies have shown, mindfulness meditation is an indispensable tool to help soothe stress and anxiety, reduce chronic pain, as well as keep your brain well resourced and healthy. In fact, this study by S. Lazar in 2005 showed that those with a steady, long term meditation practices have more brain matter than those who did not.
In times of great stress, being able to find some grounding, centeredness, and self compassion can be key to making wiser decisions, and showing more compassion in social situations, as shown by this 2013 study by Weng et al. Having a grounded center on which to draw on can also lend solace and guidance to those around you, as Vietnamese Zen teacher Thich Naht Hanh once said: "When the crowded Vietnamese refugee boats met with storms or pirates, if everyone panicked all would be lost. But if even one person on the boat remained calm and centered, it was enough. It showed the way for everyone to survive."
Mindfulness Meditation: Where to begin?
I've compiled various links to that are appropriate for beginners and advanced practitioners of mindfulness meditation. I hope that you find them useful right now and in the future.
Using Deep Breath and Body Scans
This 5 Minute Mindfulness Meditation is led by Tara Brach, a renowned meditation teacher and psychologist who is based out of Washington, DC. You can read an interview with her talking about using mindfulness meditation during times of stress and pandemic here. Here are some great resources to help you check in.
Download a Meditation App
Insight timer is a free app/website with an archive of guided meditations, longer talks teachings, sound healings, and other offerings.
- I like the quartz bowl healing by Aileen

Headspace
Headspace is a paid subscription app/service which provides guided meditation instruction. There is currently some free offerings on their website to deal with stress and overwhelm connected to COVID-19.
Get Connected with a Local Meditation Group
Insight LA is a meditation center based in Los Angeles, which is now offering classes and group guided meditations online via teleconference platforms.
Group Yoga Classes at Femina Physical Therapy / Fusion Wellness and Physical Therapy
I will be offering online yoga and meditation classes through the clinic, days and time to be determined in the upcoming days. Call the office at (818) 864-6732 to sign up!
From all of the therapists and staff at the clinic, be safe and know that you are supported! Please contact us with anything that we can support you with.
** This information is for educational purposes only and is not intended to replace the advice of your doctor. **