The Jaw Bone's Connected to the... Pelvic Bone! | TMJ and Pelvic Pain
Details

Written by

Heather Jeffcoat, DPT

14765 Views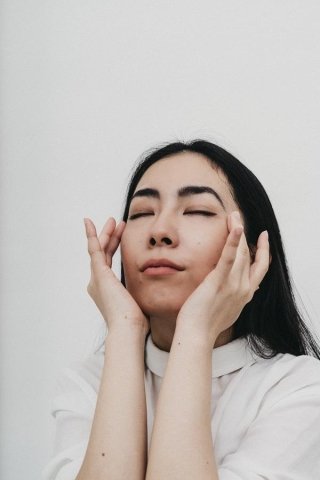 Is There Really a Connection Between TMJ and Pelvic Pain?
We all know the kids song the hip bone's connected to the thigh bone. What if there was a connection from your jaw to the pelvic floor? SPOILER ALERT: Read on for how they are, in fact, connected.
What is TMJ?
TMJ stands for temporomandibular joint.
This joint attaches your skull to your jaw and is located in front of your left and right ear. It opens and closes your mouth for activities like talking and chewing. A dysfunction in the TMJ can occur in the ligaments, muscles or joints and is referred to as TMJD.
Some of the causes of Temporomandibular Joint Dysfunction (TMJD) are:
Teeth grinding/clenching
Stress
Arthritis in the TMJ
Poor alignment of the TMJ
Injury/trauma
Dislocation of the disc
Some of the symptoms of TMJ Dysfunction are:
Jaw pain
Headaches
Neck or shoulder pain
Earache.
Difficulty opening your mouth wide
Sore or a tired feeling in your face
Difficulty chewing
Ringing in your ears
Swelling on the side of your face
Tooth pain
The Connection Between TMJ And Pelvic Pain
Clinically, it is not uncommon for our patients with pelvic pain to also have jaw pain. So what is the connection between the jaw and pelvis?
Embryologic connection: During day 15 an embryo starts the gastrulation phase. During this phase two depressions form next to each other. One will form the opening for the mouth and the other will form the openings for the urethra, anus and reproductive organs. As the spine grows these two depressions will be at each end of the spine.
Anatomical connection: Fascia is a connective tissue that provides internal support to hold our organs, muscles, nerves, bone and blood vessels in place. A fascial line runs from the pelvic floor muscles to the muscles in the jaw. Ultrasound imaging of the pelvic floor has shown this connection by showing when humming or talking with a low tone the pelvic floor lengthens/relaxes and when speaking at a high tone the pelvic floor elevates/contracts.
The stress reaction: What happens to your muscles when you're stressed? It is a normal reaction to tense your muscles in a stressful situation. Some of the more common areas to tense are the jaw, neck, pelvic floor, and buttocks. In two studies by Van der Velde et al., (2000 and 2001) patients were shown a threatening movie, and muscle activity was measured. They found pelvic floor and trapezius (neck muscle) activation during the threatening scenes. These muscles are used as a general defense mechanism. It may not be possible to change your defense mechanism but it is important to learn how to recognize when you're stressed and holding tension and how to consciously release that tension.
The human body is complex and interconnected. We know that foot alignment can impact all the way up the spine and now more studies are looking at how other regions of the body can impact the pelvic floor or visa versa. A study (Fisher et al., 2009) demonstrated the connectedness of the jaw and the pelvis. In patients with complex regional pain syndrome (CRPS) they found statistically significant improvements in hip range of motion by releasing the muscles of the jaw. Interestingly these improvements returned back to the restricted baseline when they created a simulated dysfunction by having the participants clench their teeth. Another study found improved lung function and more efficient exhalation in women with a strong pelvic floor contraction (Emerich et al., 2018).
It is important to look at the human body as a whole and not to compartmentalize it. If you experience either jaw or pelvic pain talk to your doctor and find a physical therapist that specializes in pelvic health and orthopedics. Schedule an appointment with Femina here.
References
Fischer, M. J., Riedlinger, K., Gutenbrunner, C., & Bernateck, M. (2009). Influence of the Temporomandibular Joint on Range of Motion of the Hip Joint in Patients With Complex Regional Pain Syndrome. Journal of Manipulative and Physiological Therapeutics, 32(5), 364–371. doi:10.1016/j.jmpt.2009.04.003
Emerich Gordon, K. A., & Reed, O. (2018). The Role of the Pelvic Floor in Respiration: A Multidisciplinary Literature Review. Journal of Voice. doi:10.1016/j.jvoice.2018.09.024
Van der Velde, J., & Everaerd, W. (2001). The relationship between involuntary pelvic floor muscle activity, muscle awareness and experienced threat in women with and without vaginismus. Behaviour Research and Therapy, 39(4), 395–408. doi:10.1016/s0005-7967(00)00007-3
Van der Velde, J., Laan, E., & Everaerd, W. (2000). Vaginismus, a component of a general defensive reaction. An investigation of pelvic floor muscle activity during exposure to emotion inducing film excerpts in women with and without vaginismus. Submitted
"Temporomandibular Joint (TMJ) Disorders: Symptoms, Treatment & Prevention." Cleveland Clinic
** This information is for educational purposes only and is not intended to replace the advice of your doctor. **