Pilates and the Pelvic Floor
Details

Written by

Staff

7275 Views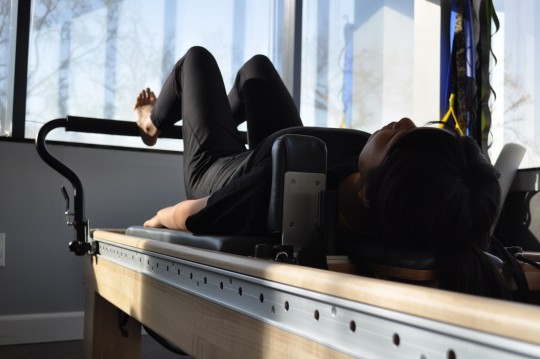 Learn All About Pilates and the Pelvic Floor
And How Pilates Can Strengthen the Pelvic Floor
A modified Pilates program can be a fantastic way to improve the strength of the pelvic floor muscles. A 2018 study by Lausen et al. had clients attend weekly one-hour Pilates classes over the course of six weeks. These classes used a type of Modified Pilates which consisted of Pilates exercises which had been modified and led by a physical therapist to specifically target the pelvic floor for the management of urinary incontinence. Those who attended the Pilates classes reported less leakage, improved self-esteem, decreased social embarrassment and lower impact of incontinence. Some of the women also reported improvement in their personal relationships after attending the classes.
In another 2011 study by Phrompaet et al., researchers found Pilates to be an effective treatment for instability in the low back and pelvis, which is a common contributor to pelvic pain and pelvic floor dysfunction.
What Is Pilates?
Pilates is a system of exercise that aims to strengthen and increase flexibility of the whole body with dynamic activities, breathwork, and controlled movements, rather than exercises with specific muscle focus. The equipment involved can include a Pilates reformer, Pilates Wunda chair, Pilates barrel, mats, and other props such as yoga balls, small rubber balls, and resistance bands. The therapists at Femina Physical Therapy have been trained in the use of Pilates exercises in the treatment of pelvic floor issues.
What Can Pilates help treat?

The strength and flexibility that is gained through Pilates training can help treat issues including:
How will Pilates be incorporated into therapy?
The therapists at Femina Physical Therapy are trained in how to modify therapeutic exercises to fit your body and needs. In addition to therapeutic exercises including Pilates and Yoga, therapists will use other modalities such as manual therapy and neuromuscular re-education to help restore proper posture, motor control and function in the body.
Patient Education and Home Program
An important part of therapy at Femina PT is learning exercises and self-treatment tools that you can use at home to keep you pain-free and leak-free. You will learn correct form and technique for all the exercises that are tailored to you and your body. As your pelvic floor therapists, we will support and guide you along the journey back to wellness and function! Make an appointment today and let's get started.
Resources
Lausen A, Marsland L, Head S, Jackson J, Lausen B. Modified Pilates as an adjunct to standard physiotherapy care for urinary incontinence: a mixed methods pilot for a randomised controlled trial. BMC Womens Health. 2018;18(1):16
Phrompaet S, Paungmali A, Pirunsan U, Sitilertpisan P. Effects of pilates training on lumbo-pelvic stability and flexibility. Asian J Sports Med. 2011;2(1):16-22
** This information is for educational purposes only and is not intended to replace the advice of your doctor. **