Grip Strength and Urinary Incontinence: The Unexpected Relationship
Details

Written by

Staff

3360 Views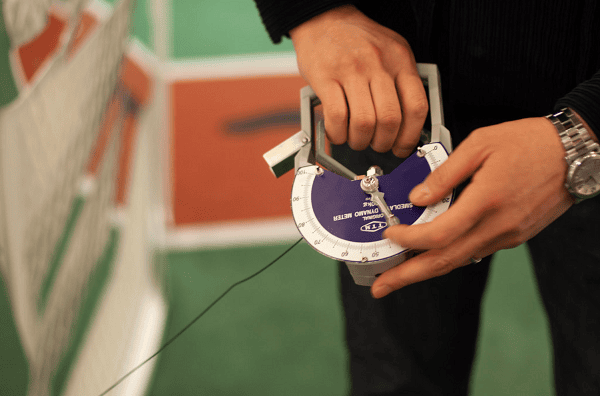 November is Bladder Health Awareness Month.
At Fusion Wellness & Physical Therapy, we take pride in understanding and applying how your whole body affects your pelvic health. In this article, we explore the links between grip strength and urinary incontinence.
A study conducted at the Jeju National University measured grip strength in patients and found statistically significant differences in patients with incontinence, overactive bladder and nocturia4. They found these patients had a weaker grip strength (less than 18kg) using a hand dynamometer.
Types & Frequency of Incontinence
In the United States, 51% of women live with urinary incontinence1. Urinary incontinence is the involuntary loss of urine which can be mild (a few drops) to a complete inability to control the bladder. There can be different triggers that may
cause the leakage such as a sneeze/laugh (stress incontinence) or when there is a sudden and strong urge to urinate (urge incontinence). 16.9% of men and women have a diagnosis of overactive bladder2. Overactive bladder is defined as the frequent and sudden urge to urinate that can be hard to control and could result in incontinence. Nocturia is defined as waking at night with the need to urinate. If you are under 65 years old it is not normal to be awoken from an urge; if over 65 years old it can be normal to wake up one time per night to urinate.
Grip Strength and Urinary Incontinence
Another study found that women with decreased muscle mass (sarcopenia) have 1.5 times higher rates of stress urinary incontinence3.
The pelvic floor muscles in women support the bladder, bowels, and uterus. These groups of muscles have five functions:
support
sphincteric
sexual
stability
sump-pump
These studies found that a general decrease in muscle mass is associated with a decrease in the strength and muscle mass of the pelvic floor muscles. Using grip strength can be an effective and quick tool to use to screen patients. This can be especially helpful in the primary care setting.
Many patients report not speaking to their doctor about these symptoms because they are either embarrassed, believe its a normal part or aging/childbirth, think it's not problematic enough or fear having invasive testing4. Using hand strength and a thorough intake could help with earlier diagnosis of these lower urinary tract symptoms. If you think you may be experiencing any of the symptoms linking grip strength and urinary incontinence, please talk to your doctor and/or contact us for an appointment so we can discuss this further.
References
1 Markland, Alayne D, et al. "Prevalence and Trends of Urinary Incontinence in Adults in the United States, 2001 to 2008." The Journal of Urology, U.S. National Library of Medicine, Aug. 2011, https://www.ncbi.nlm.nih.gov/pmc/articles/PMC3197263/#:~:text=Results,women%20and%2013.9%25%20in%20men.
2 Milsom I, Abrams P, Cardozo L, Roberts RG, Thüroff J, Wein AJ. How widespread are the symptoms of an overactive bladder and how are they managed? A population-based prevalence study. BJU Int. 2001 Jun. 87(9):760-6. [Medline].
3 Erdogan T, Bahat G, Kilic C, Kucukdagli P, Oren MM, Erdogan O, et al. The relationship between sarcopenia and urinary incontinence. Eur Geriat Med. 2019;10:923.
4 Yang, S.-J., Park, J. H., Oh, Y., Kim, H., Kong, M., & Moon, J. (2021). Association of decreased grip strength with lower urinary tract symptoms in women: a cross‐sectional study from Korea. BMC Women's Health, 21(1). doi:10.1186/s12905-021-01241-4
** This information is for educational purposes only and is not intended to replace the advice of your doctor. **