Foam Roller Refresh for a New Year
Details

Written by

Staff

8295 Views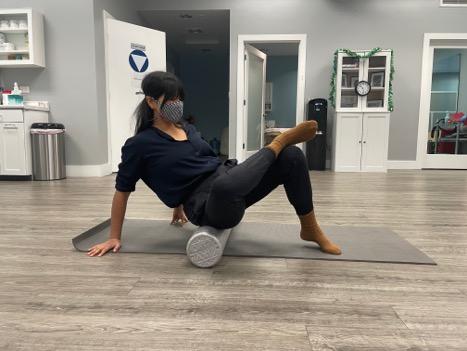 Here's a simple foam roller routine to try for a happier pelvic floor this new year.
Foam rolling is a fantastic way to manage pelvic pain by keeping your tissues hydrated with increased blood flow, reducing trigger points in the muscles and fascia, and improving mobility and range of motion. Foam rolling has also been found to increase parasympathetic nervous system response (rest and digest) which is also helpful in chronic pain management (Beardsley, 2015).
I often tell my patients that the pelvic is not an isolated island, in fact it's at the center of your body and deeply intertwined with many body functions including balance, movement, toileting, and sex. Go ahead and palpate your pelvic bones- you can feel that the muscles to the back, hip, and legs all attach to the pelvis. When there is dysfunction in these muscle groups, pelvic pain, pelvic mal-alignment, and tight pelvic floor muscles can be a result. By keeping these tissues healthy and mobile can help manage your pelvic pain.
Glute Max Mobilization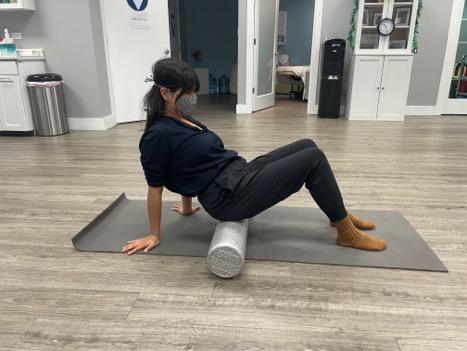 Begin sitting on your foam roller, bracing yourself with your hands behind you. Roll across the glute max muscles-- if you were wearing a pair of "mom jeans" you'd be rolling from the bottom of the jean pocket all the way to the top of the jean pocket. Repeat for 1 minute, take a rest and repeat 2 more rounds.
Glute Med Mobilization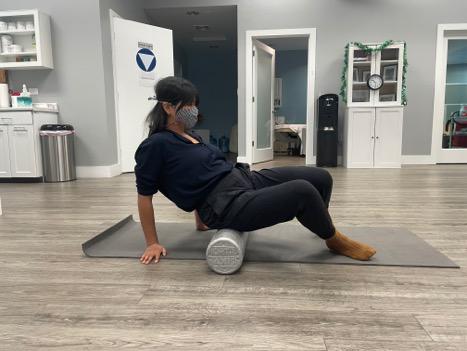 From the first exercise "windshield wiper" your knees off to one side so that you are now rolling the side of your glutes, otherwise known as the gluteus medius muscle. Continue for 1 minute and then switch sides, rolling the opposite side for one minute. Repeat switching back and forth for 2-3x.
Piriformis Mobilization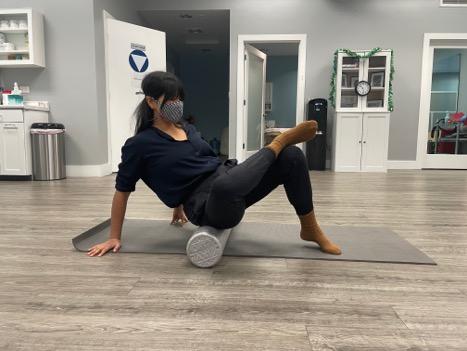 Cross one ankle over the opposite knee and slightly pivot the weight over the glute of the bent knee. Continue for one minute and then switch sides. Repeat 2-3x.
Hamstring Mobilization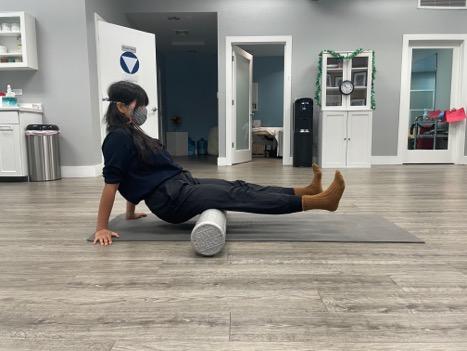 Now shift your weight backwards so that the foam roller rolls to the back of the thighs. Roll your thighs back and forth over the foam roll, using your arms for support for one minute. You can try externally and internally rotating the legs, to get slightly different angles on the back of your leg. Roll for 1 minute bouts, 2-3x.
IT Band Mobilization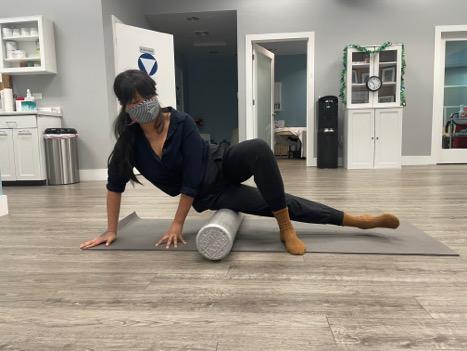 Begin lying on your side with your hip resting on a foam roll, the upper leg is crossed in front, up and over- like a kick stand with the foot resting on the ground. Slowly roll the side of your leg up and down the foam roll. Don't roll past your knee. Roll for one minute bouts, 2-3x.
Quadriceps Mobilization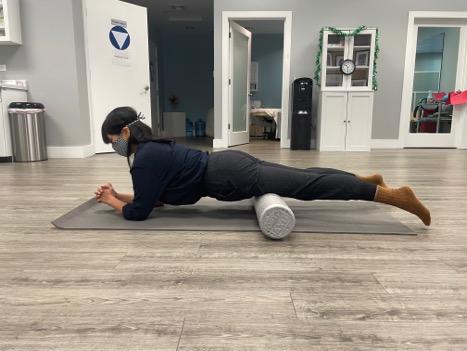 Begin by lying on your stomach with a foam roller under your upper thigh. Your elbows should be supporting your body, if your foam roller is short, your other leg can be resting on the ground. Now very slowly roll your leg back and forth over the foam roller for one minute. You can internally and externally rotate the legs to get different angles of the thigh. Repeat 2-3x.

Adductor Mobilization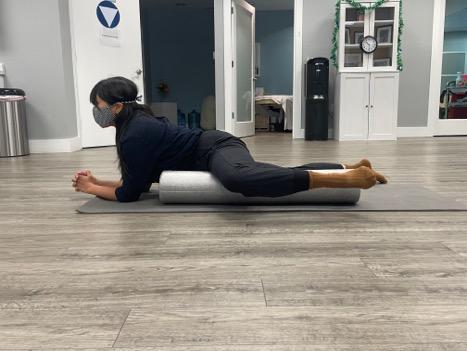 Begin lying with the foam roller besides you, like you are going to snuggle with it. Place one knee over the foam roller and rotate the trunk so that it is face down towards the mat, your elbows will support you. Roll your inner thigh back and forth on the foam roller, using your arms for support, for one minute bouts, 2-3x.

If you have any ongoing back or hip injuries, please consult with a doctor or physical therapist before beginning any exercise routines.
If you'd like to schedule an appointment with one of our pelvic health therapists, we can customize a routine for you. Give us a call today.
Resources
Beardsley et al. Effects of self myofascial release: A systematic review. Journal of Bodywork and Movement therapies (2015) 19, 747-758. DOI: 10.1016/j.jbmt.2015.08.007

Curran et al. A comparison of the pressure exerted on soft tissue by 2 myofascial rollers. Journal of Sport Rehabilitation (2008) 17, 432-442

Wiewelhove T, Döweling A, Schneider C, Hottenrott L, Meyer T, Kellmann M, Pfeiffer M, Ferrauti A. A Meta-Analysis of the Effects of Foam Rolling on Performance and Recovery. Front Physiol. 2019 Apr 9;10:376. doi: 10.3389/fphys.2019.00376. PMID: 31024339; PMCID: PMC6465761.
** This information is for educational purposes only and is not intended to replace the advice of your doctor. **