Female Athlete Triad – The Distance Runner's Hidden Obstacle
Details

Written by

Heather Jeffcoat, DPT

4297 Views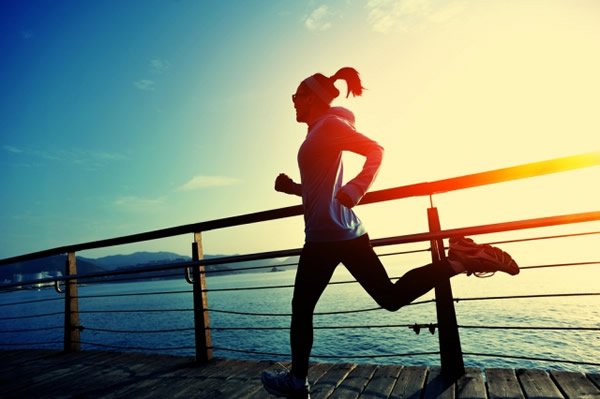 If you've trained for a marathon or half marathon, you're well acquainted with the dangers of shin splints, pulled muscles, and joint injuries.
And you probably take deliberate care to avoid them.
But it may surprise you to learn female distance runners face a little-known health risk that can have serious, even permanent, consequences.
I'm talking about Female Athlete Triad (FAT).
A recent article in the Journal Of Women's Health Physical Therapy defines the condition by its three components: "low energy availability, menstrual dysfunction, and low bone density". Those components form a chain reaction of problems that build on each other. Unchecked, each one can lead to long-term health issues from hormonal imbalance to lowered metabolism and immunities, to osteoporosis. But it's easily ignored by those who suffer from it, and misdiagnosed by their doctors.
Low energy availability often triggers the chain reaction; but how many people, including doctors, would describe a woman who fits a 5am training run into her busy schedule as 'low energy'? Reread the description. 'Low energy' and 'low available energy' aren't the same thing. According to researchers, low available energy is "the amount of dietary energy remaining for other body functions… after exercise training". You can look, and even feel, fantastic; but if your training regimen or diet is too demanding, your body will slow or shut down other systems to conserve energy.
Often, the reproductive system is the first to go offline; and that process usually starts with menstrual irregularities. Sadly, many female athletes believe the myth that irregular or missed periods are just part of the game. Of course, there are a number of other reasons a runner's period might be irregular, from pregnancy to perimenopause to a perfectly healthy personal cycle. But if you're skipping periods, it's important to find out why. Regardless of the cause, untreated menstrual dysfunction can lead to the third part of the triad, low bone density, setting you up for osteoporosis and other problems.
What's a distance runner to do?
Start by examining your diet. Endurance training and low calorie or fad eating plans do NOT go together, ladies! Whether or not it's intentional (and 80% of the distance runners in one FAT study expressed weight loss goals), running on fumes is the fastest route to Female Athlete Triad. And although you don't have to give up your quest for a medal, you may need to adjust your training regimen, too.
If you're skipping periods or have hormonal issues, it's definitely time to schedule an appointment with your doctor. Be ready to talk with them about your symptoms and overall risk for Female Athlete Triad. This is especially important if you're taking contraceptives for previously reported irregular periods. This commonly prescribed quick fix for athletic women can mask the other components while also contributing to them.
If you aren't sure how to begin the conversation, take this article with you. Better yet, start treating yourself like the serious athlete you are and surround yourself with the team of professionals you deserve. In addition to a medical doctor, consider at least one session with a dietitian, as well as a women's health physical therapist like someone at Femina Physical Therapy. In addition to our trusted referral network of specialists, we're happy to discuss Female Athlete Triad and your entire training regimen with you. Physical therapy isn't just for injuries; you'd be surprised by all the ways we can help you stay in the race toward optimal health and fitness.
Citation
Rothschild C., Schellhase, K. 2020. Considerations For The Adult Female Endurance Runner: A Survey Analysis. Journal Of Women's Health Physical Therapy 44:1 3-8.
** This information is for educational purposes only and is not intended to replace the advice of your doctor. **