Did You Know There's More Than Just Sex? Sensate Focus Can Help
Details

Written by

Staff

7906 Views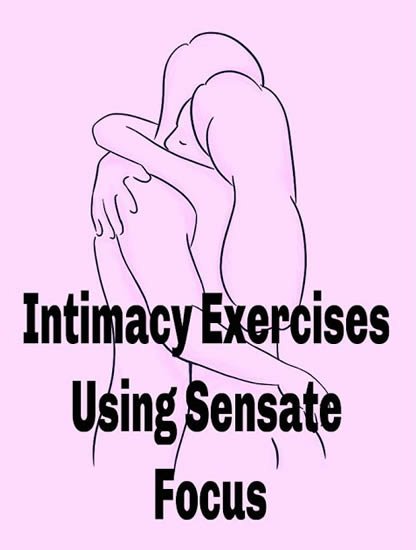 How much do we really learn about intimacy, affection, sensual touching and sex while growing up?
A lot of our references for intimacy come from what we see in our families, movies, and for sex, a lot of the time porn. What we are individually exposed to will possibly become what we think is the norm, which can then possibly skew our views towards intimacy with a partner. For instance, if a woman watches porn for a sex reference she may think her vulva has to look a certain way or that she needs to attain an orgasm with penetration or to be intimate with her partner she has to have sex, when that's not really the case.
There are more ways to have intimacy or explore pleasure with a partner aside from just penetration. This is especially important for a lot of the patients we see that either have pain with intercourse or don't have the ability to tolerate any penetration. One technique helps bring awareness to touch you enjoy with your partner without distractions. For instance, touching to receive a response from your partner is considered a distraction. Can you be mindful and learn what touch and sensations are enjoyable for yourself? This can help you find pleasures that are not sexual and don't involve the genitals. Research has also shown some success with the use of sensate focus with a multifaceted approach for vaginismus.
What is Sensate Focus?
Sensate Focus is a sex therapy technique that was created by the Masters & Johnson team in the 60's, that has evolved over the years to accommodate for a variety of sexual concerns and more diverse populations. Although more controlled trials are needed with various populations, there have been positive results reported so far. This technique consists of a series of behavioral exercises that couples can do together to explore the sensual side of touching. There are multiple steps to this technique and can be better explained by a certified sex therapist, but we will go through some basics so you can have a better understanding of what the technique intails.
During the exercises you and your partner are trying to overcome distraction and really focusing on "touching for your own interest" versus to try to make something happen. This can be very challenging, but that's why it's called an exercise, and it will improve over time. It is recommended that you do the exercises when both you and your partner are relaxed and in a comfortable setting, especially during a time you cannot be disturbed. The goal is to overcome distraction, so it's best to not have anything around that can possibly distract you like music, the TV, phones, or even talking (unless the receiver needs to communicate a boundary or express in a sensitive, positive way that they don't like how they are being touched).
You and your partner will take turns on being the explorer while the other will be the receiver. You can decide this before and schedule a good time for the both of you. The goal of the explorer is to touch mindfully without focusing on achieving a response from their partner or filling your head with other distractions. Your main focus is on your own sensations. The receiver's job is to just relax and enjoy the ride. You are also just focusing on what types and what body parts you enjoyed being touched. After 10 minutes of being the explorer or receiver you then switch. As it becomes easier, time is added to the sessions, but of course it is recommended to go at your own pace. If you are interested in practicing sensate focus there are certified sex therapists that can assist you further with the technique.
Having pelvic pain can really affect someone's intimate life, and it is so important that we support our patients and find ways/resources to help them overcome these barriers they may face. Our physical therapists specialize in pelvic health and make sure to provide resources for our patients so that they can have an optimal outcome. If you are someone experiencing pelvic pain give us a call today and make an appointment!
References:
Michelle Linschoten, Linda Weiner & Constance Avery-Clark (2016): Sensate focus: a critical literature review, Sexual and Relationship Therapy, DOI: 10.1080/14681994.2015.1127909
**This information is for educational purposes only and is not intended to replace the advice of your doctor.
** This information is for educational purposes only and is not intended to replace the advice of your doctor. **