Babywearing 101: Benefits, Challenges, and Solutions for Caregivers
Details

Written by

Debbie Dy, PT, DPT

330 Views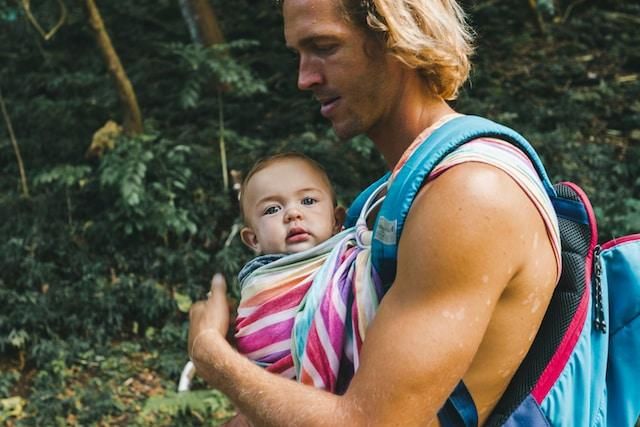 What is babywearing?
Babywearing is the practice of transporting a baby or child in a sling or carrier that is worn on the body - a practice that has existed for generations, and has been observed across many different cultures.
What are the benefits of babywearing?
In the first few months of an infant's life, it is required of caregivers to perform many hours of carrying, a task that may be daunting if there are other children in their household that need caring for, or other responsibilities within the home that need tending to. Of course babywearing allows caregivers to be physically close to the baby while remaining hands free, but not only this, babywearing has also been shown to have emotional, physical and psychological benefits for both infant and mother. For the infant, maternal carrying of the offspring has been shown to trigger a calming response demonstrated by central, motor and cardiac signals in distressed infants.1 There is also research to support that can improve length and success of breastfeeding, improve infant temperature regulation, and sleep apnea.
In a recent survey conducted by the Academy of Pelvic Health Physical Therapy, investigators sought out to identify mental health and physical effects of babywearing on the caregiver. It was found that more frequent carrying seemed to have a positive, potentially protective effect on physical health including sleep quality, fatigue, and interest in sex.1
Why do caregivers choose to discontinue babywearing?
The most frequently cited challenge was climate control - carriers were too hot to wear in the summer months.
If the heat is limiting your ability to babywear and you would like to continue, we recommend wrap-style carriers made of a light, breezy material, such as the Solly wrap:
The second most frequently cited reason that caregivers stop babywearing was due to mechanical strain.
Back pain was often reported as a reason to discontinue babywearing in this survey, but further analysis of the data revealed that this pain was minimally disabling, according to functional outcome measure scores.
For those with a history of back pain, we recommend the use of a structured carrier with increased lumbar support, such as the ErgoBaby OMNI 360, which features a larger, padded lumbar support: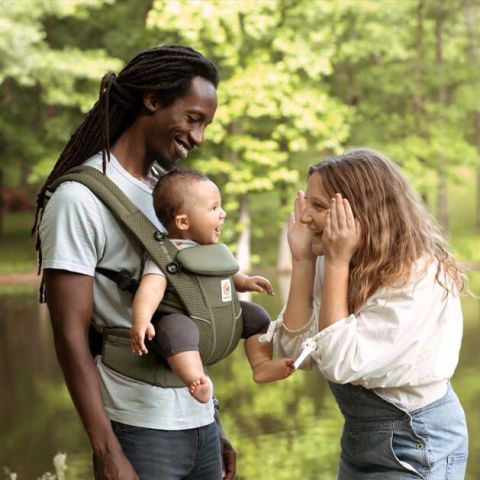 We also love the Lillebaby Carrier, which has similar lumbar support as well as a chest strap that can help to more evenly distribute baby's weight across the spine.
Another product we love for low back pain is the TushBaby! This side carrier is perfect for babies after they develop independent trunk control. This carrier allows caregivers to maintain a more optimal spine posture when side-carrying or hip carrying.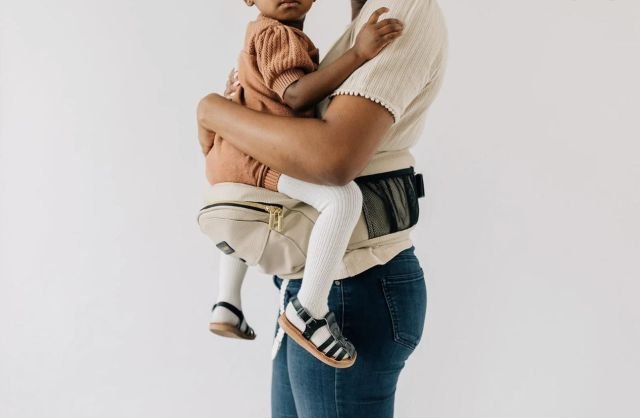 Move often!
In a 2020 article published by the American Physical Therapy Association's Section on Women's and Pelvic Heath, authors sought out to find biomechanical differences in those who wore baby carriers who developed low back pain vs. those who did not. They found an association between those who remained more stationary in standing positions with higher incidence of low back pain, as opposed to those who moved around and weight shifted more often. It was found that increasing timing and frequency of weight shifting in standing was protective against the development of low back pain symptoms.2
Babywearing and Pelvic Floor Dysfunction:
There was a higher percentage of participants that were bothered by symptoms related to pelvic floor dysfunction, but the relationship of this to babywearing is unclear. The most common symptom cited was symptoms related to pelvic organ prolapse such as pelvic heaviness.
Babywearing certainly places additional load on the pelvic floor muscles. When initiating babywearing, like with any novel activity, it is important to build up tolerance to this increase in loading that is being placed on the body. Consider starting with just 10-15 minutes of babywearing, then slowly increase that time by 10 minutes per day. If you notice any increase in back pain or pelvic heaviness, regress back 10 minutes of wear time. Discontinue using your carrier or wrap if you notice any increase in postpartum bleeding.
If symptoms like these continue to be in issue, our staff of highly trained physical therapists can evaluate your pelvic floor and whole body to determine any impairments, such as core or pelvic floor weakness, that can be addressed to help you get back to babywearing without symptoms!
References:
Havens, Kathryn L. PhD1; Johnson, Eileen V. DPT, WCS1; Day, Elizabeth N. BS2; Holdener, Caleb J. BS3; Starnes, Catherine P. PhD4. Infant Carrying in the United States: A Survey of Current Practices, Physical and Mental Health Benefits, and Challenges of Babywearing. Journal of Women's Health Physical Therapy 46(1):p 25-34, January/March 2022. | DOI: 10.1097/JWH.0000000000000227
Mannen, Erin M. PhD1,2; Havens, Kathryn L. PhD3; Kahney, Alexandra SPT2,4; Nelson-Wong, Erika PT, PhD4. Baby-Carrying Method Impacts Caregiver Postural Sway and Pain During Prolonged Standing. Journal of Women's Health Physical Therapy 44(2):p 47-53, April/June 2020. | DOI: 10.1097/JWH.0000000000000163
** This information is for educational purposes only and is not intended to replace the advice of your doctor. **