7 Tips for Returning to Running Postpartum
Details

Written by

Staff

2593 Views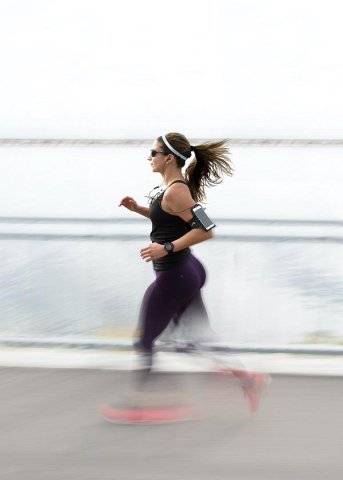 Are You Thinking of Returning to Running Postpartum?
There is not a magic time frame as each person recovers differently and the most important thing is to listen to your body.
For healthy uncomplicated pregnancies and deliveries the American College of Obstetricians and Gynecologists (ACOG) recommends women return to low-moderate intensity exercise at six weeks postpartum and eight weeks postpartum for cesarean.
After your OBGYN or midwife has cleared you to return to exercise, if you haven't started with a Pelvic Floor Physical Therapist yet, now is a good time.
Your Returning to Running Postpartum Program
Beginning your return to running postpartum program after delivery should be slow and mindful.
Making sure you're not experiencing any pain or pressure (pelvic pain/pressure, low back pain, pelvic girdle pain, hip/sacroiliac pain. If you are experiencing pain it is especially important to speak with your healthcare provider first and get a recommendation to see a pelvic health physical therapist before you begin your exercise program.
Tip #1: It is important to lay down a strong foundation before you begin any impact activities such as running postpartum.
During this time you want to focus on strengthening the core, hip and thigh muscles. It is important to start with a gentle activation of the target muscles. This way you are able to reconnect to the muscles without compensations (this is especially important with core exercises!!). Make sure you are aware of which muscle you are trying to target and maintain good form. Some examples of exercise to begin with are kegels (making sure you fully relax after each contraction), bent knee fallouts, heel slides, clams, donkey kicks, bird dog, squats, lunges, rows, balance activities (progressing to single leg) and monster walks.
Donkey Kicks
Heel Slides
Bent Knee Fallouts
Clams
To see examples of these exercises, view videos at the end of this article.
Tip #2: It's important to progress your strengthening exercises so they become a challenge and are preparing you for your goal of running postpartum.
You can increase the challenge of the exercise by adding resistance (bands or weight), increasing repetitions or eliminating support (ie. lying on your back vs. standing) It takes 8-12 weeks to notice increased strength from resistance training. Be patient and make sure to exercise each muscle group 2-3x per week.
Tip #3: Tracking performance can help with determining appropriate intensity of exercise and motivation.
Some examples are monitoring pulse rate, rating of perceived exertion (0-nothing 3-moderate 7-very heavy 10-maximal exertion), speed, mileage, or repetitions. These should all improve gradually over time. It is also important to continue to monitor for discomfort, pain, motivation and fatigue.
Tip # 4: It is important as a new mother to identify your goals and motivation for exercise.
Then to develop a program around your new lifestyle of also being a mom. This can be the most challenging part. It can be helpful to connect with other moms in running postpartum or exercise groups for support.
Tip# 5: Make sure to have adequate support for the breasts during exercise.
It can also be helpful for nursing mamas to pump prior and bring extra nursing pads.
Tip # 6: Begin a walking program and ease back into running.
Once you are able to walk a half hour without difficulty or pain start to add in running intervals.
Tip# 7: Once you're feeling stronger you can begin modified plyometric exercises.
These types of exercises can be altered to be low impact and easily progressed as strength and speed improves. Some examples are squat jumps (initially remove the jump and spring up onto the toes), jump lunges (Initially start with a reverse lunge changing legs each time), Step jacks (step to the side with same arm elevated, progress to jumping jacks), Burpees (Initially eliminate jump at the end and step up). Note: as you are attempting to progress to more impact activities such as running postpartum, make sure to focus on a quiet land so that you control your descent.
Step Jacks
Modified Burpee without jumps
Modified Jump Squats (up on toes)
Example of run/walk intervals: Walk for 3 minutes and run for 1 minute, progress to walking 2 minutes and running 1 minute. Eventually switch the time frame so you will be running 3 minutes and walking 1 minute until you are at your goal.
If you're having any of the following symptoms during or after exercise or running postpartum, reach out to your OB-GYN or midwife as soon as possible:
light-headedness or dizziness
feeling very out of breath
chest pain
bleeding or leakage
muscle weakness
headache
vision changes
calf swelling or pain
persistent pelvic pain
vaginal, bladder, or rectal pressure
increase in abdominal separation (diastasis recti)
When returning to running postpartum (or any other physical activity), it can be helpful to seek out a qualified, licensed pelvic physical therapist to reestablish a connection to your core and set up a personalized exercise program to meet your goals. Additionally, if you are experiencing any pain, weakness, urinary incontinence or pressure this should be evaluated further. Contact us here for an in-office or Telehealth session so we can help you reach your postpartum exercise goals.
Exercises That Build a Foundation for Returning to Running Postpartum
** This information is for educational purposes only and is not intended to replace the advice of your doctor. **