4 Pelvic Floor Stretches for Childbirth That You Need NOW
Details

Written by

Staff

2550 Views
All About the Importance of Pelvic Floor Stretches for Childbirth
**Talk to your physical therapist and healthcare team about specific guidelines for you**
Are you ready for the big day? Have you thought about how you will prep for your upcoming delivery? In this article, we'll review four pelvic floor stretches for childbirth that may be appropriate, but recommend you consult with your childbirth healthcare professional to confirm if these are right for you.
Deep breathing/ PF lengthening
Purpose: To lengthen pelvic floor and intercostal muscles (muscles of the ribcage)
How to: Take a deep breath in, expanding the ribcage (side to side and front to back). Also, imagine the pelvis expanding (side to side and front to back) with the inhale. You should also notice a light belly rise as well. The exhale component should be passive... just let go.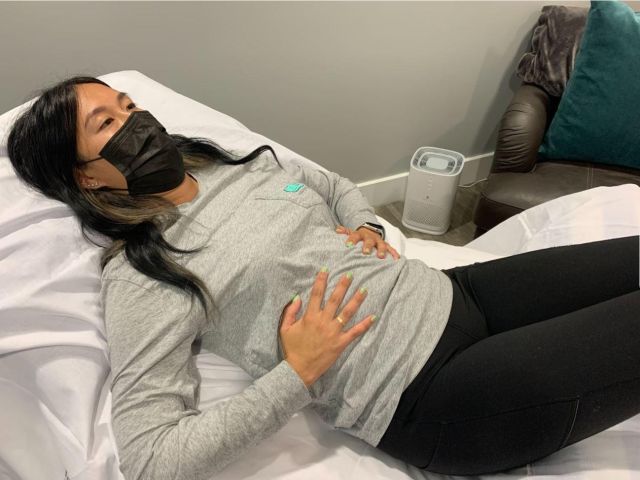 Child's pose or modified child's pose
Purpose: To stretch the low and midback muscles and pelvic floor muscles
How to: Sit your hips back while reaching your arms out in front of you. Hold and take a deep breath. As your belly grows, you will need to spread your knees apart to create more space.

Modifications:

Pain or pinch sensation in hips: do not sit back as far;
Pain in the knees: place pillow/ rolled up mat between the back of your thighs and calves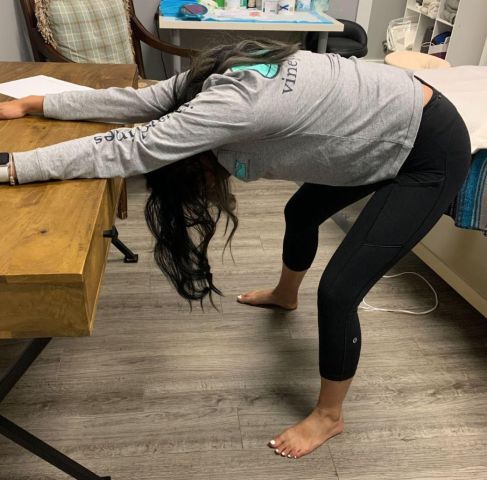 Cat-cow pose
Purpose: Stretches muscles along the spine and pelvic floor
How to: Begin on your hands and knees. With your arms directly under your shoulders and knees directly under hips. Inhale and lengthen your pelvic floor muscles (imagine your sit bones spreading apart) let your tummy sag down to the floor while looking up. Exhale and draw your pelvic floor and abdomen up and in while slowly rounding your back up toward the ceiling and repeat.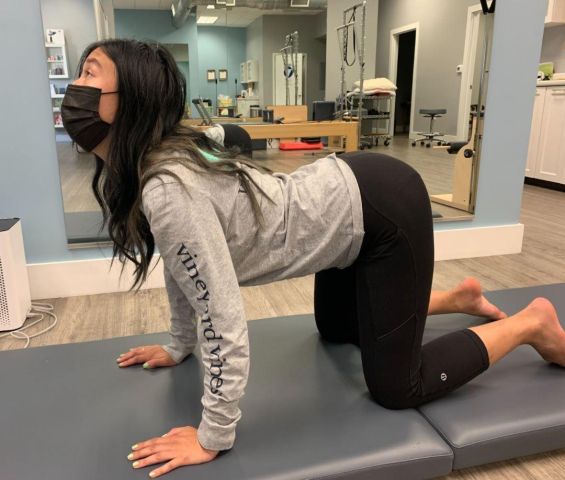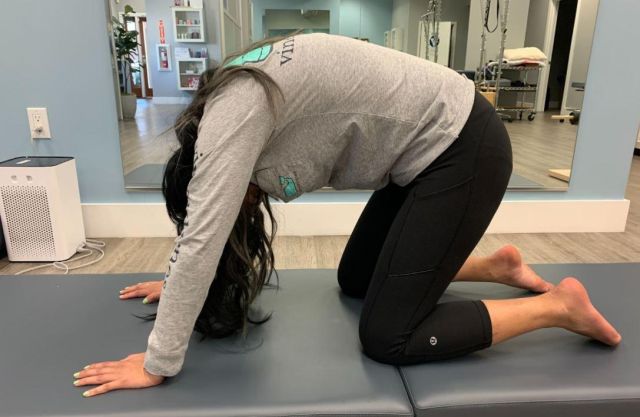 Deep squat
Purpose: stretch calves, low back, inner thighs and pelvic floor
How to: Find a stable object to hold on to prior (ie. sturdy chair, table). Lower yourself into a deep squat. Make sure to breathe throughout the exercise to let yourself relax. Stop the exercise if it worsens your symptoms.

Tip: *** heels do not need to be on the ground.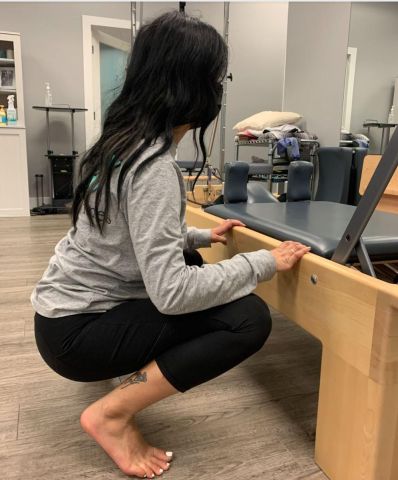 These are general stretches to help prepare your pelvic floor for childbirth.
If you are interested in an individual program, or you just want to make sure you are doing pelvic floor stretches for childbirth correctly, please contact us for an in office session or virtual consultation.
** This information is for educational purposes only and is not intended to replace the advice of your doctor. **